mixi Connect (English) » mixi Plugin » mixi check » Register and Manage services/products
Register and Manage services/products
Partner Dashboard
You can manage all services through Partner Dashboard
【What you can do is】
Adding new services
Changing the service information
Deleting the services
Adding new services
1.Adding new services
Click "mixi Plugin"
Click "Adding new services"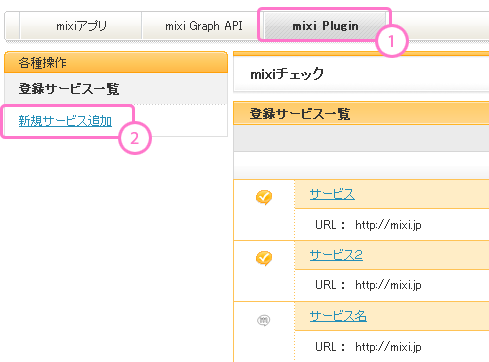 2.Register information for your new services
Fill out the mandatory field.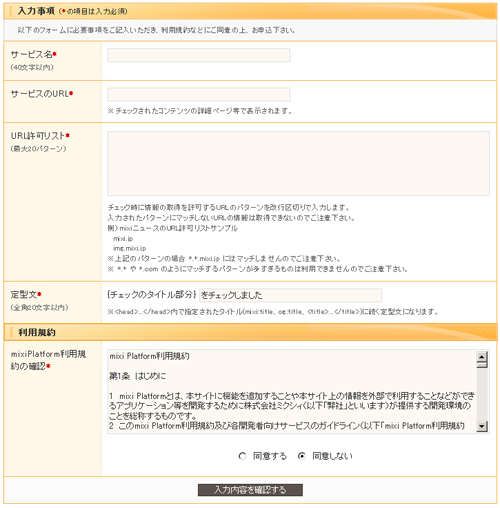 Field
Discription
Service name
Service Name which has mixi-check-button.
Service URL
Service URL which has mixi-check-button.
Allowed URL List
Developers must specify URL which an object content of mixi-check belongs to.
Be careful, the image server is no exception to this rule.
It is not necessary to enter "http://".

mixi.jp
m.mixi.jp

Specifying multiple servers is possible.

img-*.mixi.jp

When "abc.cde.example.com" and "efg.hij.example.com" is specified, it is as follows.

*.*.example.com

However, be careful to the following points.
In case *.example.com is specified,
neither example.com nor abc.efg.example.com is not included.

Fixed Form
This string is inserted to update information. For instance,

Please look at the following for details.
・Screen Description:PC
・Screen Description:Mobile
3.Confirmation for the registration
You can confirm the description you have filled out.
In case you have changed the logo, a name of the image file you have specified should be shown on the page (It doesn't display image at this step).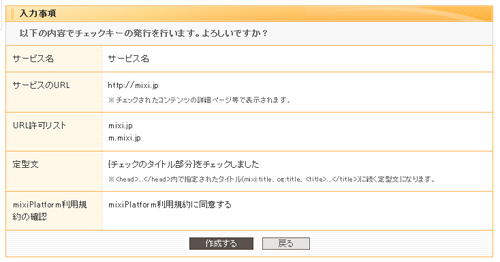 4.Registration Completed
A completion screen is displayed.


5.Confirmation for a check-key
When registration is finished, a check-key is published.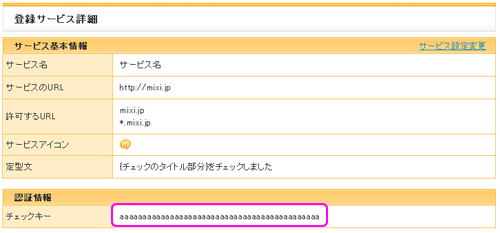 If it is new registration, a default icon is registered automatically.
After the new registration, developers can register a original icon in "change the services".
Available icon images explained here.
Please use mixi-check-button with using registered check-key.How to set up is here.
Changing the registered description
1.Select the services
Pick out the services which you will change the description.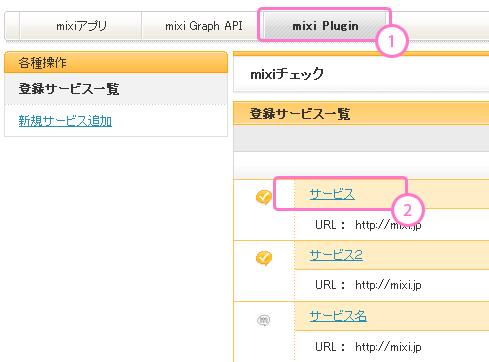 Pick out the services configuration from left side column.


2.Changing the Registered Information
Please modify the registered information.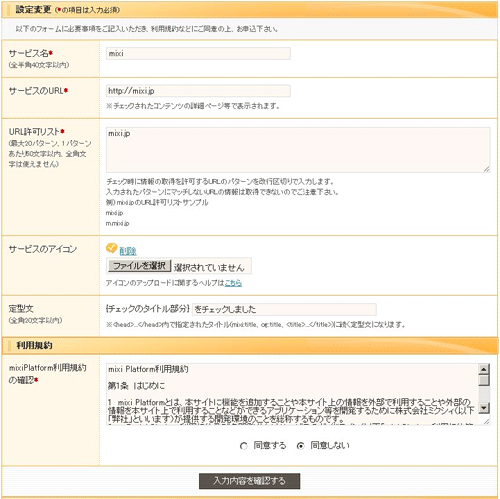 3.Changing Confirmation
Please confirm that input is correct.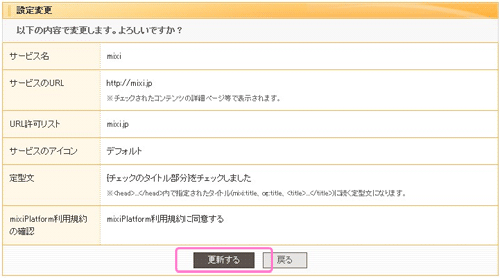 4.Changing Completed

Deleting the Services
1.Select the services
Pick up the services from the list.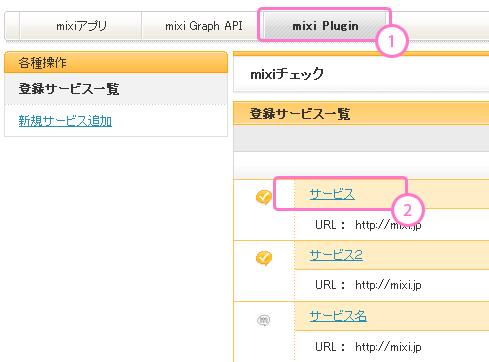 Pick out the services configuration from left side column.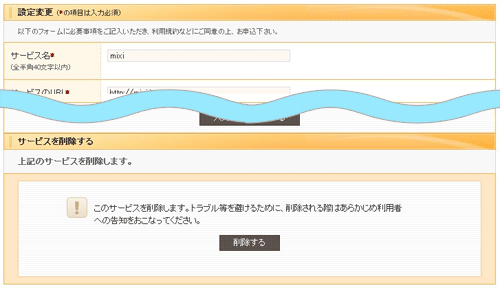 2.Delete the Services
There is a button for deleting the services at the bottom of the page. When you click "Delete", a confirmation page pops up. By clicking "Delete" again, the service will be deleted for sure.