mixi Connect (English) » mixi Plugin » Favorite Button » Acquisition of HTML
Acquisition of HTML
* "タグ取得" means "obtaining HTML tags."
* "イイネ!" means "I like it."
Obtain HTML tag of "イイネ!" button for PC
Developers can get HTML tag of "イイネ!" button for PC on Partner Dashboard.
Partner Dashboard > mixi Plugin > サービス一覧 > サービス詳細 
Fill out the following items and push "タグ取得", HTML is displayed by the column of "タグ".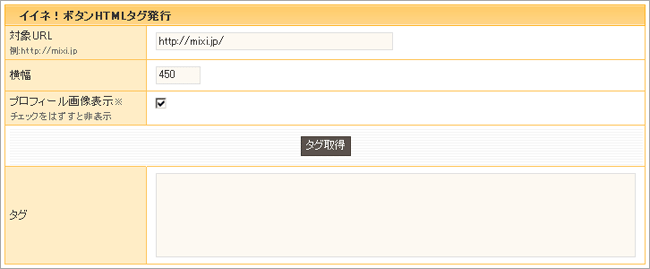 Object URL
Input a object URL for "イイネ!"
※Only a domain which is registered in "Allowd URL List" is available.
Width
"イイネ!" button is displayed as an iframe. Developers can specify its width.
Depend on "Width-size", the number of profile images are changed automatically.
Profile image
Developer can choose whether profile image is displayed.
※If it is invisible, button's height is optimized automatically.
Visible

Invisible

Developers just need to paste the displayed HTML tag into your home page.
Obtain HTML tag of "イイネ!" button for Mobile
This function is only available on PC.
Please look at technical specification.