mixi Apps (English) » Technical Specification » PC » Support Community
Support Community
Each developer is able to create and operate a support community for an application s/he provides. Communication and feedback from users on the support community are always fruitful and useful to develop and improve the application.
Creating a Support Community
The support community can be developed by following procedure below.
Click "Community" in the global navigation to access the community page.
Proceed to the community development page by selecting "Create Community" displayed on the upper right corner.

Fill out the following items and register it.

Community name (up to 15 full-width characters)
Category*
Conditions for participation and publication levels
Rights to create topics
Description of the community (up to 10,000 full-width characters)
Photos
* The category should be "Others."
Guiding Users to the Support Community
A shortcut to the support community is added to the footer of the applications page when the support community is developed.

In addition, information about the support community is added to the application description page.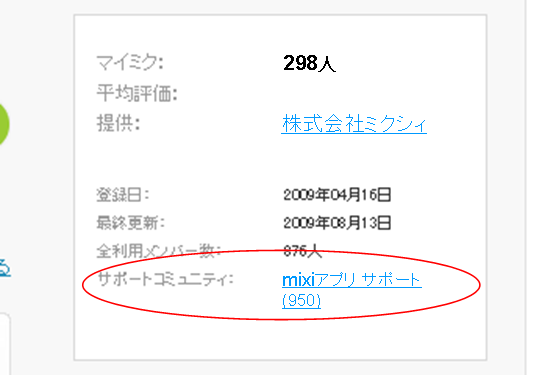 Notice
If there is only one member (administrator only) in a community for 30 days, the community is automatically deleted.
A User who is under 18 years old cannot participate in any community.
When the developer is willing to delete a community, s/he must announce that make by at least 30 days before the mixi App is deleted.
Even if the administrator cancels its mixi membership, the community will continue to exist unless it is deleted by the administrator or mixi.