mixi Apps (English) » Applications, Registration and Inquiries » Application for mixi Payment Program » Application for mixi Payment Program
Application for mixi Payment Program
1. Download application package
Please download the application package from administrator page of a mixi App.
("SAP Dashboard" -> "business support" -> "payment program")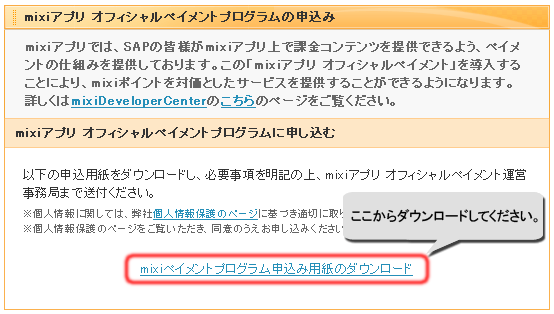 The application package includes the following documents:
mixi Payment Program Overview
Application form for mixi Payment Program
Application form for review on application charging proposal
(Description of screen flow and price table for digital content of the mixi App should also be included)
Prior check sheet for Program conformance check
Application for Program conformance check
Terms of Use for mixi Payment Program
Guidelines for mixi Payment Program
Privacy Policy
2. Submit the application
After filling it out and stamping the corporate seal on it, please send the application form to:
Attention: mixi App Business Support
mixi, Inc.
Sumitomo Fudosan Shibuya First Tower 7F,
1-2-20 Higashi, Shibuya-ku,
Tokyo, 150-0011, Japan
You have to send this application form only for the first time, but the procedure written from 3 – 8 has to be followed for each mixi App to be charged.
3. Description of a mixi App and charge flow
What you need:
Description of mixi App to be charged by mixi Payment Program (whole page structure and price table for digital content/mixi App should be included)
mixi App for trial (this trial mixi App should not be the mixi App to be charged)
When you are ready, please email them to mpp_info@mixi.co.jp using the following mail template:
To:mpp_info@mixi.co.jp
Subject:【mPP企画申請】Application name/Company name
Message:
I hereby agree to Terms of Use, Payment Program Terms of Use and Private Policy of mixi and would like to apply for the Payment Program.
Application ID:●●●●
Application Name:●●●●
Preferred platform(s) to start mPP:●●●●(PC, mobile or both)
For details, please refer to the application form/attachment.

*Only mixi Apps which have been launched to the public for over 14 days are eligible for application.
*mixi Payment Program for PC are only available to mixi Apps which have already started or applied for mixi Payment Program with the mobile version.
*Please send an application e-mail per application you wish to apply for the Payment Program.
*Please make sure to use the above template. If not, reviews may be delayed.
4. Review
mixi reviews the application following a certain criteria.
5. Implementation
Upon the approval by mixi, mixi enables you to implement the payment features on the mixi App for trial.
6. Conformance Check
mixi check its conformance after the implementation.
When the SAP implemented it, please confirm the performance with the check sheet, and email to mpp_info@mixi.co.jp with attachment of the application for Program conformance check
Notice: During the conformance check, no change in terms of a specification can be made.
7. Test
After the conformance check, charges from the mixi App is allowed. You must notify the date you will start charging ("X day") within 3 business days from the date you receive an email from mixi.
8. Payment Launch
Within 5 days from X day, mixi shall check the mixi App. Depending on the check, mixi may ask you to cease or improve the payment system at any time for any reason.