mixi Platform (English) » Applications, Registration and Inquiries » Partner Registration (Corporate) » Certified Partner » Information on Partner Test Account
Information on Partner Test Account
What is a Partner Test Account?
A partner test account is an account used by an organization that has acquired a partner account for the purpose of testing applications they provide, utilizing the mixi Platform.
You can use partner test accounts in these situations!
In the case the Partner deems necessary, up to 20 partner test accounts enabling the Partner to debug and test a mixi Platform are available.
You do not want your colleagues to know your personal account when testing your mixi applications using mixi Platform.
It is expensive to obtain a mobile phone in order to newly create an account for your company. (Moreover, it is a violation of the mixi Terms of Use to create multiple accounts.)
You performed cancellation tests and became unable to restore dairy and other contents.
Sample
If you have a partner test account, the "test" emblem is displayed below the profile photo.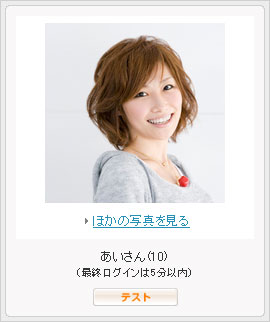 NOTICE
Transferring/loaning test accounts to any third party is prohibited.
Please use the account upon agreeing to the mixi Terms of Use, Terms of Use for the mixi Platform, and Terms of Use for Partner Accounts.
Use and disclosure of contents (text, video(s), etc.) that violate copyright are prohibited.
Use of accounts for purposes other than testing mixi Platform is prohibited.
mixi, Inc. shall not be liable for any trouble that may occur. If we find that any account is used for purposes other than testing mixi Platform or that the use of a test account is in violation of any stipulated regulation, all test accounts for the corresponding partner accounts may be deleted and, in some cases, the right to acquire partner accounts in the future may be deprived.
Please note that all test accounts may be deleted upon prior notification as a matter of convenience for our test environments.
Application for Partner Test Account Issuance
Test accounts are issued by applying for them in the following manner.
Corporations who do not have partner accounts yet
You can apply for test accounts when applying for issuance of a partner account. You can find how to apply for the accounts on the following page.

Partners who have already obtained partner accounts
You can find an explanation on how to apply for account in the following page.
Application to partner test account issuance