mixi Platform (English) » Applications, Registration and Inquiries » Developer Registration (Individual)
Developer Registration (Individual)
In order to develop mixi App and launch it to the public, the individual developer shall follow simple steps.
* Please refer to "Registration of Partner Account (for Corporate Developer)."
Access to Developer Registration
Access the developer registration page and click the "Developer Registration" button to proceed.

Registration Information
Fill out the necessary item on the page completely and click the "Confirm Entries" button.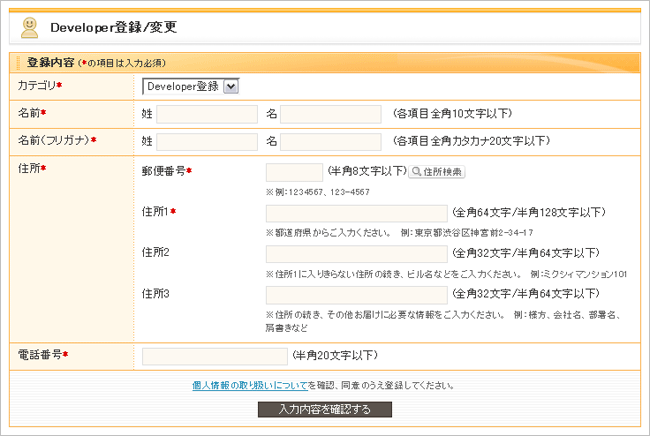 If all the entries are correct, click the "Register" button to proceed.
After the following page appears, an email is sent to the registered mobile or smart phone email address.


Follow the instructions and continue with the registration.


Completion of Registration by Mobile or Smart Phone
Access the URL written in the email with the mobile or smart phone and log into mixi. The following completion page appears: the developer registration is now completed.